"The Twins' Little Sister"
By Hyewon Yum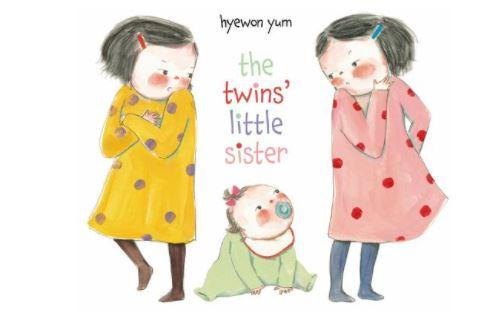 Based on the author's real-life family, "The Twins' Little Sister" has lots of great lessons about sharing, especially sharing one mother. The twins are used to having two of everything, and have shared their mother only by "splitting" her too: they can sit on either side of her, or each hold one of her hands, and so on. But now, a new baby is going to disturb the balance! This adorable book helps children realize that growing families will still have enough love to go around.
https://www.amazon.com/Twins-Little-Sister-Hyewon-Yum/dp/0374379734/ref=sr_1_1?crid=397K6OCUARPFS&keywords=the+twins+little+sister&qid=1554999354&s=gateway&sprefix=the+twins+little%2Caps%2C183&sr=8-1
"You were the first"
By Patricia MacLachlan
"You were the first" reminds an oldest child that she will always be the first to her parents. She was the first to be born to them, and therefore their first to go through each milestone, and this makes her special to them in a unique way. The book does not introduce a new baby, but ends with a subtle hint towards one. It may be a good tool to start a conversation about family roles and each child's precious place.
https://www.amazon.com/You-Were-First-Patricia-MacLachlan/dp/0316185337/ref=sr_1_6?keywords=book+about+new+baby&qid=1554996043&s=gateway&sr=8-6
"I'm a Big Brother/Sister"
By Joanna Cole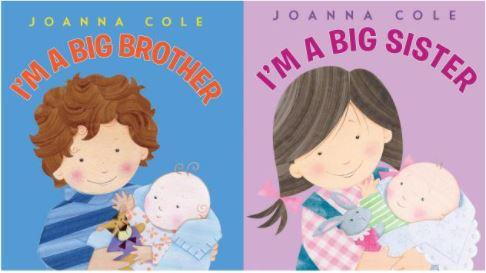 This book has two versions, depending whether your toddler is becoming a big brother or a big sister. With a note to parents about the older child's emotional needs, this book tries to touch upon the delicate nature of change in a family. The language is simple, which is perfect for young readers. The narrator explains a lot about a baby's needs and behaviors, while showing their sibling connection as well: "Our baby likes to look at me."
https://www.amazon.com/Im-Big-Brother-Joanna-Cole/dp/0061900656/ref=sr_1_3?keywords=books+about+big+brother&qid=1554995959&s=gateway&sr=8-3
"What Brothers Do Best"
By Lauren Numeroff
With detailed and hilarious illustrations, readers learn about the wonderful things that older and younger siblings can do together. Children will take away the message that having a sibling is a special blessing that will make everything even more fun!
https://www.amazon.com/What-Brothers-Best-Laura-Numeroff/dp/1452110735/ref=sr_1_31?keywords=book+about+new+baby&qid=1554996069&s=gateway&sr=8-31
"Babies Don't Eat Pizza"
By Dianne Danzig
This book is excellent for an older sibling who needs a more in-depth introduction to new baby, whether because he is older than a toddler, or simply has more questions. It would be a bit text-heavy for very young children, but for those whose attention will hold, it can be a wonderful tool. Pictures are friendly and colorful, and the child reading will receive enough information so that he won't be scared by the changes coming.
https://www.amazon.com/Babies-Dont-Eat-Pizza-Brothers/dp/0525474412/ref=sr_1_5?keywords=books+about+big+brother&qid=1554995959&s=gateway&sr=8-5
"Maple"
By Lori Nichols
Maple is a lovable, mature and wholesome narrator. She tells the readers about the tree that her parents planted for her before she was born, and how she and the tree have continued to grow. Now, a new sister is coming. She will also have her own tree, a willow. Nichols goes on to write more stories about the sister pair Maple and Willow, who become the best of friends.
https://www.amazon.com/Maple-Lori-Nichols/dp/039916085X/ref=sr_1_4?keywords=maple&qid=1554996975&s=gateway&sr=8-4